Partnering
The Law Office of Attorney at Law Tomasz Bąk is based in Szczecin; however, thanks to partnering with lawyers in major cities in Poland and Europe, our office provides services to the whole country and in other EU countries.
We aim to provide comprehensive solutions in personal and business matters. To this end, we work with experienced professionals who complement our experience with their expertise in various fields. These include:
licenced tax advisors,
university law professors,
specialists in business valuation,
specialists in accounting,
notary offices,
forensic experts,
property experts,
economic advisers,
translators.
Attorney Tomasz Bąk is a member of the Bar Association in Szczecin. He is qualified to practise before courts of all instances, including the Supreme Court and the Constitutional Court as well as before all administrative courts.
Our office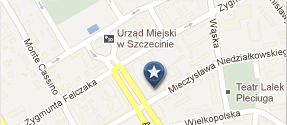 18/2 Niedziałkowskiego St.
71-403 Szczecin
Phone./Fax: (+48) 91 820 29 29
Mob.: (+48) 507 09 66 39